Staff
Our dedicated staff members are here to provide support, compassion, and information to help you through your journey of grief and the celebration of your loved one's life.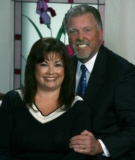 Guy and Mary Dilling - Owners
Guy Dilling - Funeral Director FDR#30
Guy is 3rd generation in a family-owned and operated mortuary. He grew up around the business with both parents and grandparents involved. He joined the firm in 1971 and soon attended and graduated from San Francisco College of Mortuary Science. He became a licensed embalmer after serving his apprenticeship under the direction of his grandfather Guy Robinson. In 1986, Guy Robinson retired and sold his mortuary to Guy and Mary Dilling. Guy became a licensed funeral director as well as President of the corporation. Mary joined him as Secretary/Treasurer in charge of finance, as well as an arrangement counselor. Together their goal is to give the finest care to all families they serve.

Guy is currently on the board of the San Leandro Boys and Girls Club. He is a longtime member and past president of the San Leandro Rotary Club. Mary is a past president of San Leandro Inner Wheel Club and currently on the board of San Leandro Boys and Girls Club Foundation.